OVERVIEW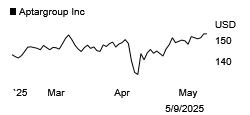 Copyright West LLC. Minimum 15 minutes delayed.
Corporate Profile
AptarGroup, Inc. is a leading global supplier of a broad range of innovative dispensing systems for the beauty, personal care, home care, prescription drug, consumer health care, injectables, food and beverage markets. AptarGroup is headquartered in Crystal Lake, Illinois, with manufacturing facilities in North America, Europe, Asia and Latin America.
ENTER YOUR E-MAIL ADDRESS
Sign up to receive e-mail alerts whenever AptarGroup posts new information to the site. Just click here.
UPCOMING EVENTS
Friday, November 01, 2019 8:00 AM CDT
CORPORATE GOVERNANCE
At AptarGroup, we practice business relationships that are based on responsibility and on long-term and mutual interests to all stakeholders. We strive for relationships that are based on openness, honesty, and feedback. We are dedicated to the highest standards of corporate governance, including financial accounting and reporting.
Here you will find the various aspects of our corporate governance. The Committee Charters speak to the purpose, duties and responsibilities of each committee. Corporate Governance Principles address the role, requirements and responsibilities of the Board of Directors in its oversight of the company. AptarGroup's Code of Business Conduct and Ethics summarizes the long-standing principles of conduct that AptarGroup and its subsidiaries follow to ensure integrity and compliance with the law. The Director Independence Standards provide categorical standards in identifying whether a relationship between the company and a director (or an organization with which a director is affiliated) is material for the purpose of independence determinations.